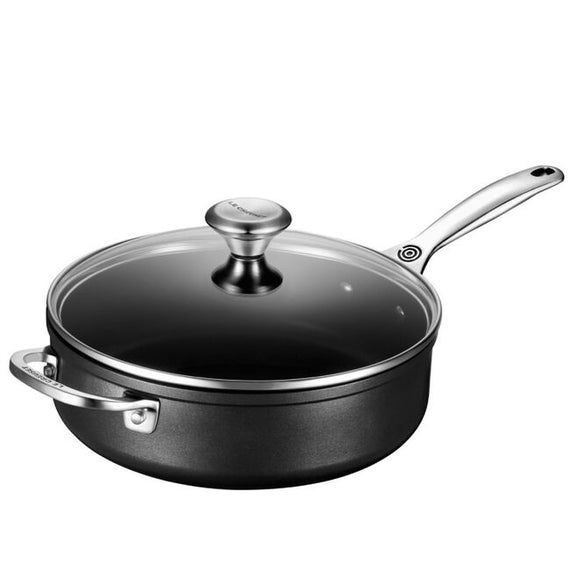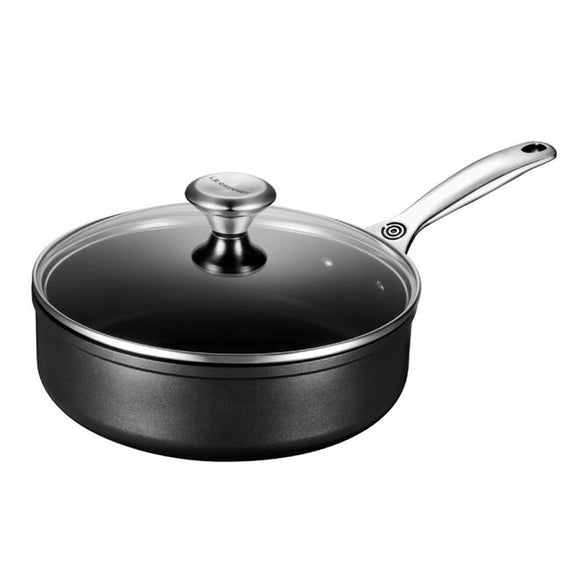 Toughened Nonstick PRO Saute Pan
Now 4x stronger, Le Creuset's Toughened Nonstick PRO saute pan delivers superior results and everyday ease of use. The generous wide cooking surface makes the nonstick saute pan perfect for pan-frying and sauteing, simply add the tempered glass lid to simmer and braise.  A greater depth and tall sides provide extra capacity for sauces and stews and minimizes splatters for easy cleanup. Designed for versatility, the saute pan features a textured triple-reinforced coating that browns and sears exceptionally well, with or without oil, and  wipes clean.  Safe for dishwasher, oven and metal utensils, Le Creuset's nonstick is the choice for mastering flavorful meals from stove to oven to table. 
Features
Textured interior promotes browning and searing for exceptional flavor — and easily wipes clean
Hard anodized aluminum construction and fully encapsulated stainless steel base resist warping, and allow for quick and even heating
Stay-cool ergonomic handles allow for quick, comfortable movement
Compatible with all cooktops and oven-safe up to 500°F (tempered glass lids up to 425°F)
Safe for dishwasher and metal utensils
90-day "PRO Promise" and limited lifetime warranty
This product contains PFAS for its nonstick properties.