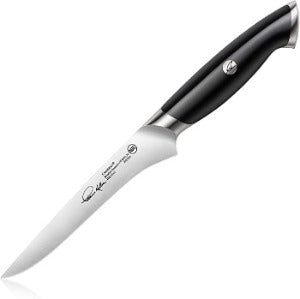 Thomas Keller 6" Boning Knife
Designed by Michelin-starred chef Thomas Keller and crafted by award-winning cutlery maker Cangshan. Single large rivet features Thomas Keller's initials. This boning knife's flexible blade is perfectly suited for closely cutting meat around bones and joints.

Forged from Swedish Damasteel RWL34 powdered steel, an extraordinarily fine-grained, high-alloy steel known for its excellent edge strength, hardness and corrosion-resistance. Full-tang blade construction. Bolster-free design supports firm pinch grip and allows easy honing/sharpening.

Ultra-precise 6-stage heat treatment creates a Rockwell hardness rating of 61 +/-2, allowing the blade to take a remarkably sharp edge. Hand polished and hand sharpened by expert bladesmiths. 16-degree Asian-style cutting edge.

Packaged in an attractive walnut storage box featuring Chef Keller's signature laser engraved onto the box for an elegant touch. Magnetic storage box boasts a unique hinge-less design.

NSF International Certified. Lifetime Warranty against manufacturer defects. Wash knives with warm water and a little detergent, rinse carefully and dry with a towel. USPTO Patented Design.