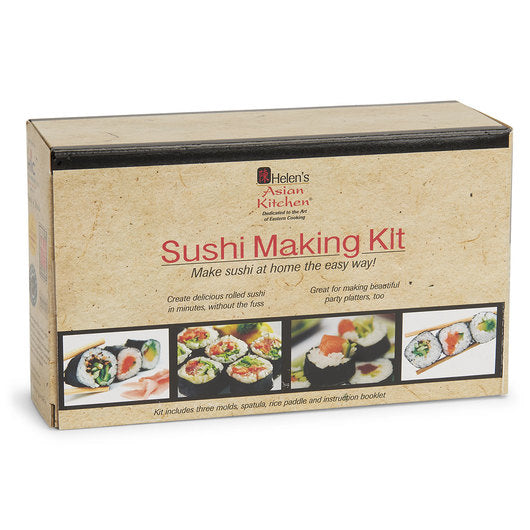 Helen's Asian Kitchen Sushi Making Kit easily creates homemade sushi at home without all the fuss. Sushi is a favorite finger food in Japan and popular world wide. Whether learning how to make sushi rolls or perfecting favorite sushi recipes, the Sushi Making Kit helps craft this popular finger food at home easily.
The molds properly form and shape sushi without tearing delicate seaweed (nori sheets). Use the large mold (8 x 2.75 x 2.5-inches) for making futomaki rolls with 4 to 5 filling ingredients, or small mold (8 x 1.25 x 1.5-inches) for hosomaki rolls with a single ingredient, and heart-shaped mold (8 x 2.75 x 2.5-inches) for creating extra-special occasions.
The kit also includes 1 slotted Rice Paddle (7.5-inch) and 1 spatula (7.5-inch). Simply line the desired mold with a sheet of nori. Spoon in rice and add the fillings. Press contents firmly with the lid, and slice equal sized pieces, all right in molds. Serve sushi with soy sauce (shoyu), pickled ginger (gari) and Japanese horseradish (wasabi).
Made from FDA-approved polypropylene, which contains no BPA, Helen Chen's Sushi Making Kit is simple and fun to use. Dishwasher safe for easy cleanup. Brought to you by HIC Harold Import Co.