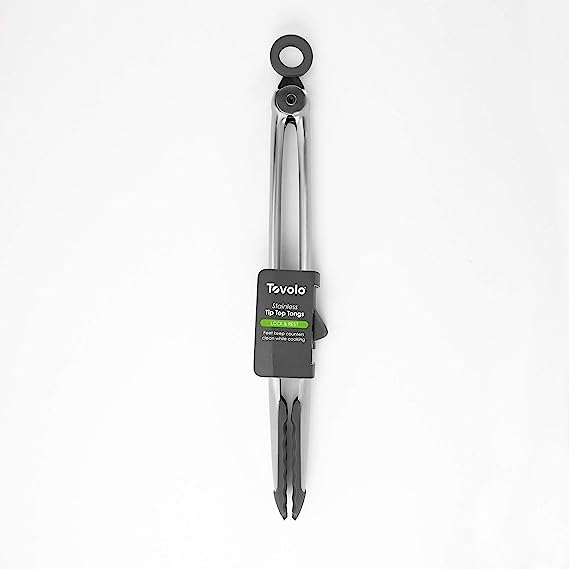 13" Silicone Tip Top Tongs
DURABLE SILICONE HEADS: BPA-free silicone tips are stain-resistant and food-safe to create the best possible kitchen tool. The soft-touch silicone will not scratch pans, making it a gentle and safe choice for nonstick bakeware or cast iron cookware.

PULL RING LOCKS ARMS IN PLACE: Keep the tongs closed between uses with the handy locking mechanism. Pull the ring to lock the pincers in the closed position, and push it in to release the arms. Locking mechanism makes these tongs compact and easy to use, as they can fit neatly in drawers or on spoon rests between uses, then be ready for action in a flash.

REST YOUR TONGS EASILY: Built-in resting foot tilts the silicone tips upwards and allows the handles to rest on the countertop. Keep drips off of kitchen counters and outdoor grills for a clean cooking experience.

HEAT-RESISTANT SILICONE: Silicone is heat resistant up to 600 degrees, so it can handle foods on the stovetop, fresh out of the oven, or on the grill. The added grip makes it easy to serve pasta, grilled chicken, steak, stirfry, fried foods or salad.

DIMENSIONS & CARE: 13.25" L X 1.5" W X 1.5" H; dishwasher safe for easy clean-up. BPA-free silicone and nylon.