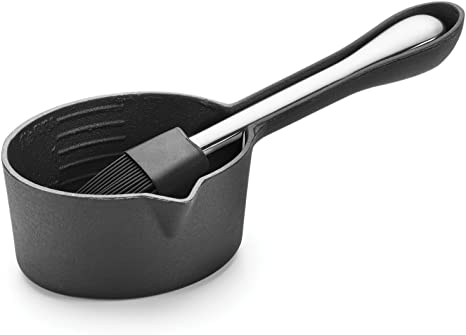 DON'T GET LOST IN THE SAUCE: Try cooking it and storing it in this beautiful black cast iron skillet

CONVENIENT BRUSH INCLUDED: Rather than clutter up your cabinet with an extra sauce brush, use the one that comes with this pot! Great for adding sauce to your grilled meats, and nestles neatly into the handle of the sauce pot itself.

DURABLE DESIGN: This sauce pot is made from cast iron, a natural non-stick material that's also chemical free. Built to last, this pot is sure to keep up with you and all your cooking needs.

GOES WHERE YOU GO: Perfect for both indoor and outdoor cooking. Add it right onto your grill. With its oval shape and practical no-mess spout, your sauce or seasoning will never be far behind.

MEASUREMENTS: This sauce pot weighs 1.85 pounds and has dimensions of 4.5 x 10 x 4 inches.