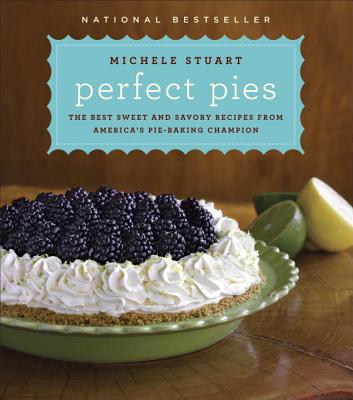 Perfect Pies~ The Best Sweet and Savory Recipes from America's Pie-Baking Champion: A Cookbook
The smell of a pie baking in the kitchen immediately conjures up feelings of comfort, nostalgia, and love. Michele Stuart vividly remembers standing at her grandmother's apron hem as a child, as she fine-tuned (and improved!) family recipes that had been passed down for generations. Eventually, Stuart's lifelong passion for pie-making inspired her to open what would become the world-famous shop Michele's Pies.
You don't have to travel to Michele's Pies in Norwalk and Westport, Connecticut, though, to taste Stuart's mouthwatering creations.
Perfect Pies
shares nearly eighty delicious recipes, many of them National Pie Championships winners: There are desserts bursting with fruit (Country Apple Pie, Blueberry-Blackberry Pie), crunchy with nuts (Chocolate-Pecan-Bourbon Pie, Maple Walnut Pie), cream-filled delights (Coconut Custard Pie, Lemon Chiffon Pie), and pies perfect for a party (Ultimate Banana Split Pie, Candyland Pie). And let's not forget Stuart's sensational savory creations, from Lobster Pot Pie to Quiche Lorraine to Italian Wheat Pie. Stuart also passes along easy recipes for Hot Fudge Sauce, Raspberry Jam, and Whipped Cream to top it all off.
Stuart's secret, she says, is that her pies are "made by hand with love," but she doesn't neglect to advise you on the basic kitchen tools you'll need as she reveals essential tips and techniques, from how to roll out dough to the best way to make light and flaky crust. And of course she stresses the use of fresh, seasonal fruits and other wholesome ingredients. "The best pies are the ones that keep it simple," Stuart notes. So whether you're a pie novice, a weekend baker, or a seasoned pastry chef,
Perfect Pies
will help make everything you bake worthy of a blue ribbon.