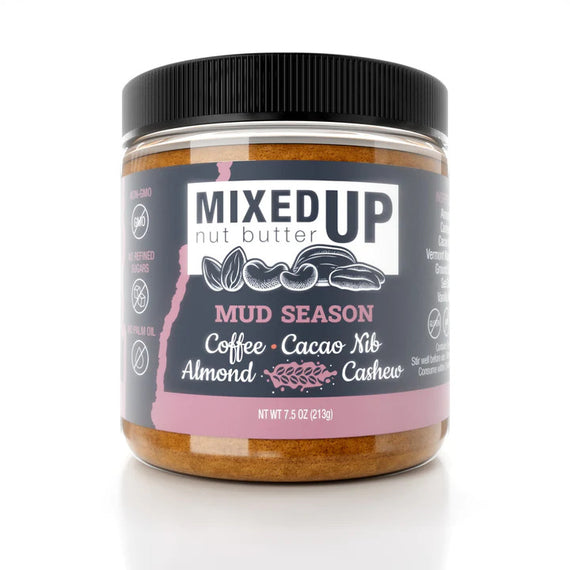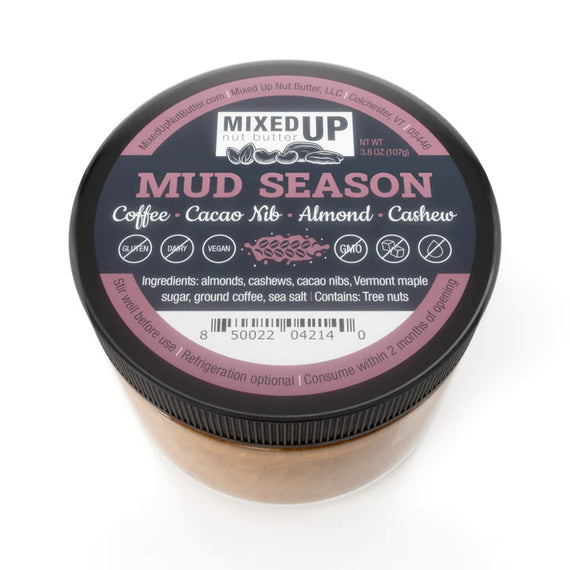 Mud Season Mixed Up Nut Butter
A premium blend of almonds, cashews, cacao nibs, Late-Season VT maple sugar, VT-roasted coffee, vanilla bean, and sea salt.
You may be wondering...what's Mud Season? It's Vermont's infamous fifth season in March and April. A sludgy cocktail of snow, rain, and dirt plague unpaved roads, parking lots, and anything you wear on your feet. The freeze-and-thaw weather cycle makes it ideal for making Vermont's sweetest treat: Maple Syrup. This flavor is muddied with Vermont-roasted coffee, crunchy cacao nibs, flecks of vanilla bean, and a touch of maple sugar. Just like the end of ski season, it's bittersweet and caffeinated. Enjoy!
Ground and Jarred in Vermont

Ethically-Sourced Cacao Nibs and Vanilla Bean
Lightly Sweetened with Late-Season Vermont Maple Sugar
Vegan & Paleo Friendly
Great source of healthy fats and contains 5

 grams of protein per serving

No palm oil, refined sugars, or artificial preservatives