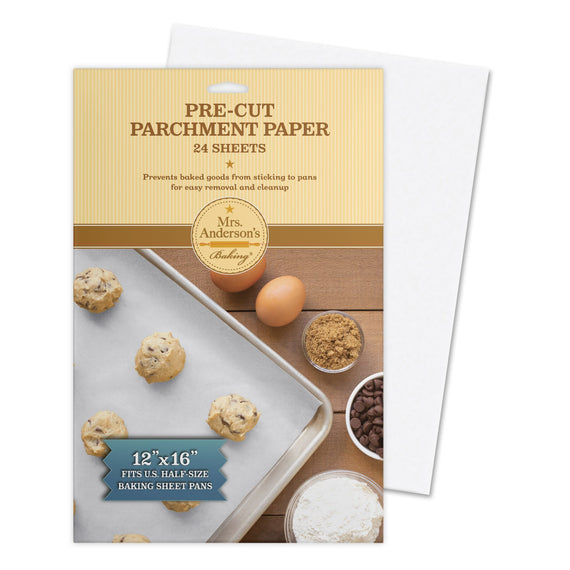 Mrs. A's Pre-cut Parchment Sheets
Mrs. Anderson's Non-Stick Pre-Cut Parchment Sheets keep baked goods from sticking without greasing baking pans or the use of oils. Each sheet of chlorine-free paper is conveniently pre-cut to fit U.S. half-size 12 x 16-inch baking sheet pans perfectly. The naturally non-stick surface allows for quick release of foods.
No greasing or oils needed for healthy baking. They're safe for use in the freezer, microwave, and oven (to 450-degrees Fahrenheit). Ideal for baking cookies, cakes, pastries, and breads, simply line the bottom of the baking pan with the parchment sheet before adding in foods to be baked. Made from professional-quality 38gsm-thick paper from natural white chlorine-free wood pulp with a naturally nonstick silicone coating. Disposable single use for easy cleanup.
Not intended for use with direct flame. Do not use for broiling or grilling. Brought to you by HIC-Harold Import Company.
Includes 24 pre-cut Parchment Sheets.