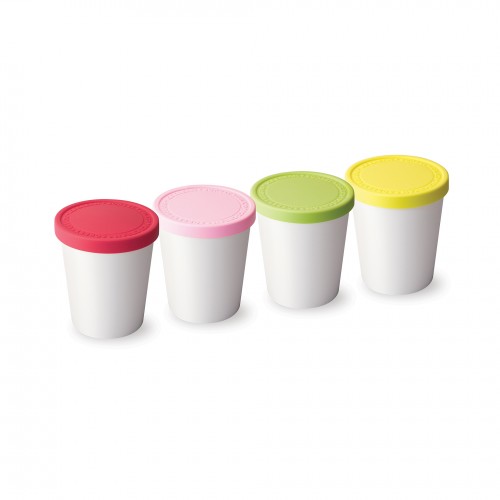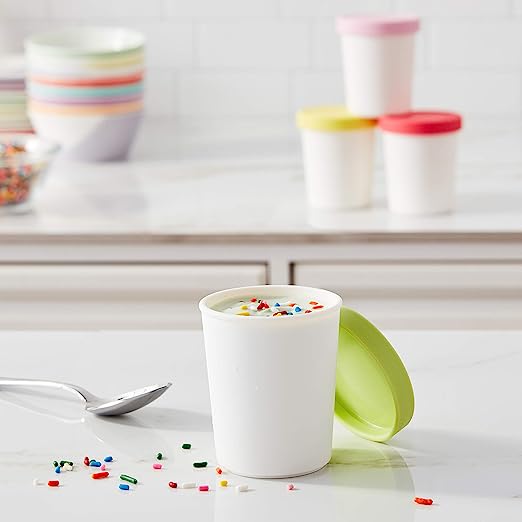 6oz Mini Sweet Treat Tubs Set of 4
A set of 4, 6 ounce Mini Sweet Treat Tubs that are great for portion control or for letting everyone create their favorite mix-ins to add to homemade frozen desserts.
Prevent Freezer Burn: Silicone lid tightly seals around the lip of the plastic tub, sealing out air that leads to freezer burn; silicone provides light insulation to keep your ice cream, gelato, sorbet, or other frozen foods as fresh as possible.

Stackable Storage: These frozen treat tubs are designed to be stacked atop one another, making for compact storage and saving room in the freezer for other frozen goods.
No Freezer Odor: These frozen treat tubs come with tight-fitting silicone lids to seal out unfavorable smells or tastes in the freezer, keeping your treats fresh.
Easily Accessible: Flexible silicone lid pulls off of frozen ice cream tubs easily, making it simple to access your frozen treat as soon as you want to; the silicone lid can be replaced quickly as the flexible material slides over the lip.
Dimensions and Care: Measures 5.38" L x 5.38" W x 3.13" H.
To clean, wash with soap and water. Dishwasher safe.