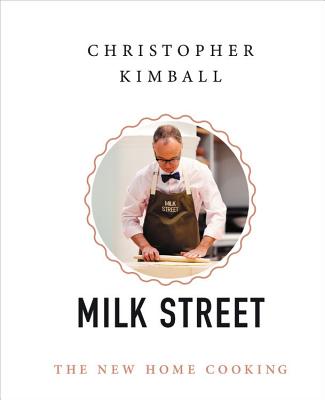 Milk Street: The New Home Cook
For more than twenty-five years, Christopher Kimball has delivered delicious and easy recipes for home cooks. Now, with his team of cooks and editors at Milk Street, he promises that a new approach in the kitchen can elevate the quality of your cooking far beyond anything you thought possible.

Christopher Kimball's 
Milk Street
, the first cookbook connected to Milk Street's public television show, delivers more than 125 new recipes full of timesaving cooking techniques arranged by type of dish: from grains and salads to simple dinners and twenty-first-century desserts.

At Milk Street, there are no long lists of hard-to-find ingredients, strange cookware, or all-day methods. Deliver big flavors without learning a new culinary language with these mouthwatering dishes: Skillet-Charred Brussels sprouts, Japanese fried chicken, Rum-soaked chocolate cake, Thai-style coleslaw, Mexican chicken soup

These recipes are more than delicious. They teach a simpler, bolder, healthier way to cook that will change your cooking forever. And cooking will become an act of pure pleasure, not a chore.

Welcome to the new home cooking. Welcome to Milk Street.