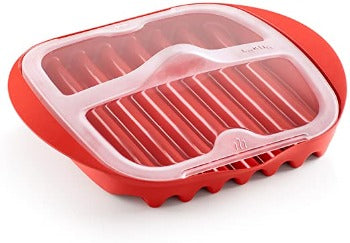 Cook crispy bacon in the microwave oven without any mess.

Microwave up to 6 slices of bacon in under 5 minutes. The raised grooves on the base keeps bacon elevated out of grease while cooking and the spout allows the excess fat to be poured off.

The lid prevents grease spatter inside the microwave and the handles make the pan easy to carry to the counter. Base material is made of an FDA approved resin which is resistant to high temperatures, dishwasher safe and BPA free.

Capacity: Up to 6 slices of bacon.
Dimensions: 9.8" x 10.9" x 2.7"
10-YEAR GUARANTEE

Lékué offers a 10 year warranty for manufacturer's defects.

We will replace any item with the same or similar item, if the item fails during use.

Warranty not effective for commercial use.