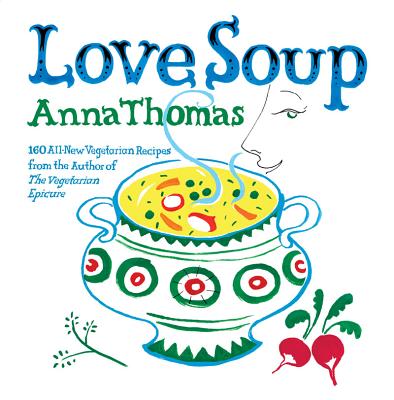 Love Soup ~160 All-New Vegetarian Recipes from the Author of The Vegetarian Epicure
Winner of the James Beard Foundation Book of the Year, Healthy Focus: delicious recipes for vegetarian soups from the author of "the most influential cookbooks in the history of modern vegetarian cuisine" (Chicago Sun-Times).
Anna Thomas's 
Vegetarian Epicure
 cookbooks have sold millions of copies and inspired generations. Now she describes her love affair with the ultimate comfort food. "From my kitchen to yours," Thomas says, "here are the best soups I've ever made." Her wonderfully creative recipes make use of fresh, seasonal produce—try black bean and squash soup in the fall, smoky eggplant soup in midsummer, or seductively perfumed wild mushroom soup for Christmas. Silky puree or rib-sticking chowder—each recipe has room for variation, and nearly all are vegan-friendly. 
Love Soup
 also provides recipes for breads, hummus, pesto, salads, and homey desserts—and simple menus that put soup at the heart of the meal. Throughout, Thomas offers expert advice on shopping, seasoning, tasting, becoming a cook. With soups that delight and nourish, Thomas invites us all into the kitchen, to the most old-fashioned food and the newest, to the joy and good sense of home cooking.