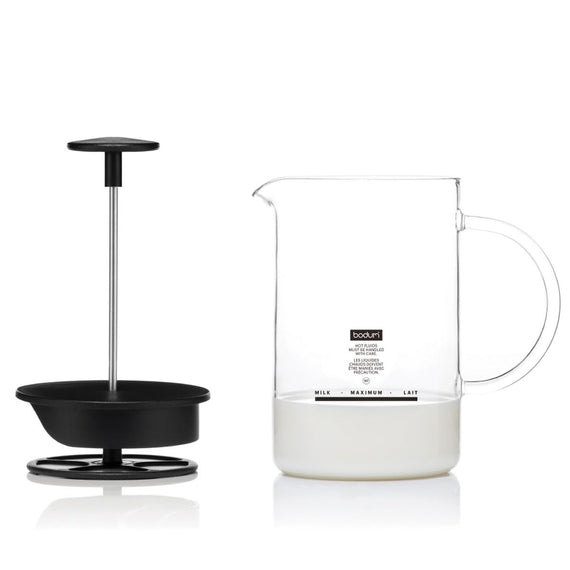 About the LATTEO Glass Milk Frother
Enjoy a moment of indulgence courtesy of the LATTEO glass milk frother. This nifty little gadget adds the finishing touch to your coffee with its rich, flavorful foam.
Perfect for cappuccino, latte, mocha or an indulgent hot chocolate, the LATTEO runs on people-power alone – no batteries or electricity required. In just 30 seconds, this glass milk frother transforms cold milk into luscious, airy foam, so you can create your favorite coffeehouse drinks in the comfort of your home.
If you prefer hot froth, simple pop the borosilicate glass carafe of frothy milk into the microwave for 30-50 seconds before pouring. It's the crème de la crème of at-home coffee!
Main Features & Benefits
Manual glass milk frother that produces luscious, airy foam.
Ideal for making cappuccino, latte, mocha and hot chocolate.
Carafe made from high-quality, durable borosilicate glass that can be placed in the microwave for heating.
Glass handle that's easy to hold and use.
Dishwasher safe.
How it Works
For perfectly frothed milk with minimal effort:
Fill the carafe to the MAX level with cold milk (about 8 ounces).
Place the carafe on a stable, flat surface.
Put the lid on and close the pouring outlet.
Plunge the milk 60-90 times (around 30 seconds) until it feels thick and frothy.
Rest for around a minute.
If you'd like hot froth, pop in the microwave for 30-50 seconds.
Spoon your luxurious foam into your coffee – and enjoy!
Use & Care
Wash in warm, soapy water before first use. All parts dishwasher safe. Important information for vegans: use either Oat milk or Barista style Almond.