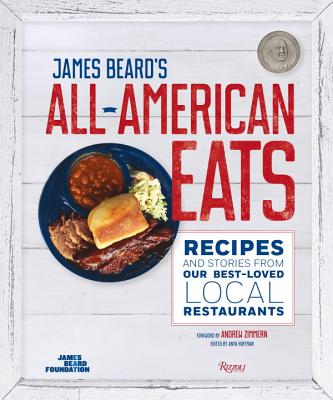 James Beard's All-American Eats Recipes and Stories from Our Best-Loved Local Restaurants
The renowned James Beard Foundation chooses the greatest of America's homegrown eateries and presents recipes for their craveworthy foods. Every town has one: a humble restaurant serving up soul-satisfying food, a place that pulls the whole community together. Maybe it's in a cinderblock shack or a clapboard house, but it's the kind of place you take for granted—until you leave town and an uncontrollable craving takes over. These are America's Classics—local eateries recognized by the James Beard Foundation as timeless institutions within their communities. This cookbook brings together eighty of their recipes so the home cook can re-create such regional favorites as St. Elmo's Crab Mac and Cheese, The Shed's Red Chile Enchiladas, Aunt Carrie's Indian Pudding, Bowens Island Frogmore Stew, Totonno's White Clam Pizza, Camp Washington's Cincinnati Chili, and Gott's Roadside Cheeseburger (with the secret sauce!). Just as good as the food are the inspiring tales behind these mom-and-pops, told in oral histories: how an immigrant grandfather turned an heirloom dish into a booming business, or how a vengeful lover's recipe for spicy fried chicken earned a cult following.
James Beard's All-American Eats
is a tribute to the local treasures and unsung heroes of true American cooking, as well as a collection of recipes for craveable classic dishes.