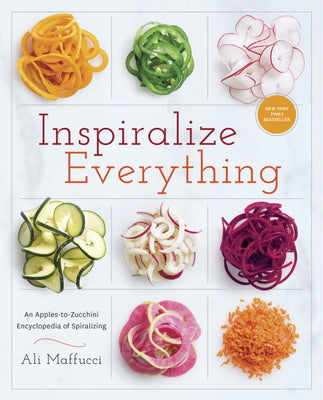 Inspiralize Everything~ An Apples-to-Zucchini Encyclopedia of Spiralizing: A Cookbook
From the author of Inspiralized comes the

 

New York Times-bestselling, ultimate guide to spiralizing, with clean meals that fit into any diet, from paleo to vegan to gluten-free to raw. 

As the creator of the wildly popular blog and the author of the runaway bestselling cookbook on the topic, Ali is indisputably the authority on spiralizing. 

Inspiralize Everything

 is organized alphabetically by type of produce, allowing you to cook with whatever you already have on hand, what comes in your CSA box, or what you find at the farmer's market. Ali highlights more than 20 vegetables and fruits, detailing their nutritional value and preparation techniques, including the more abundant beets, butternut squash, and carrots, but also the less common chayote, jicama, and kohlrabi. 

Each recipe, complete with nutritional information, was crafted to become a well-loved staple in your repertoire with a focus not only on healthy eating, but also on easy cooking. Diet customization options, veggie swap suggestions, and special attention paid to one-pot, make-ahead, and no-cook meals ensure that 

Inspiralize Everything

 will become a workhorse in your kitchen. Want a vegan dinner that's minimal on cleanup? Try 

Cheeseless French Onion Soup

. How about a hearty meal that'll make great leftovers for lunch tomorrow? 

Winter Lasagna with Butternut Squash, Brussels Sprouts, and Chicken Sausage

 is for you. Need a super detox to reset your tastebuds? The 

Watermelon Radish Nourish Salad with Lemon-Ginger Vinaigrette

 is just the thing. Sweet tooth satisfaction? Proceed straight to the 

Zucchini Noodle Bread with Coconut Cream Frosting

. 

Whether you have weight-loss goals, follow a specific healthy lifestyle, or just want to make good-for-you food at home, this book has the answer. If you're a spiralizing pro, this book will become your recipe bible; if you're just starting out, it will teach you everything you need to know. Either way, get ready to be inspiralized.