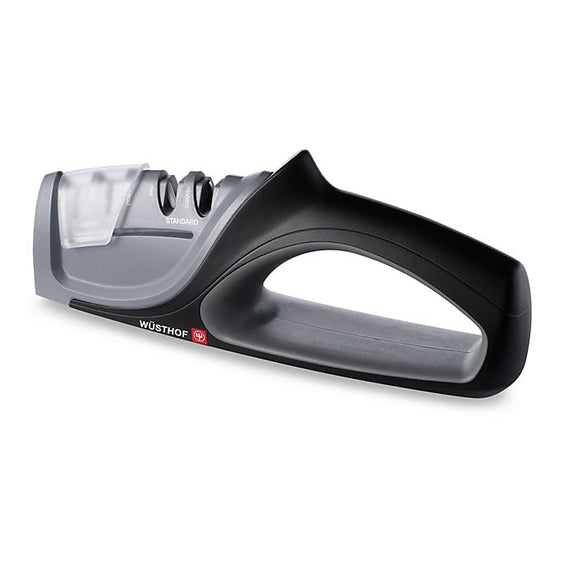 Handheld 4 Stage Sharpener
Sharpen both your Standard knives and your Asian style knives with the Wusthof 4 stage knife sharpener. The standard sharpener uses carbide blades set at 28 degrees or 14 degrees per side to sharpener your standard kitchen knives. Stage 2 of the standard side uses ceramic rods to hone a fine edge on your blade. Simply slide the cover over to Asian knives to sharpen your Asian knives to a 20 degree angle or 10 degrees per side.
The V-shaped cutting head with two crossed carbide blades puts a quick edge on knives. Stage 2 uses ceramic rods to hone the fine edge of your Santoku or Nakiri knives. Simply place the gadget on a flat work surface and hold the E-Z grip handle with one hand and the knife handle with the other.
Insert the knife blade fully into the slot at a 90-degree angle to the sharpener and pull down and back three or four times to sharpen. After setting the knife's edge with the carbide side, use the unit's ceramic side to nicely finish the edge. The four-stage knife sharpener measures 9 by 3 by 1-1/2-inches.