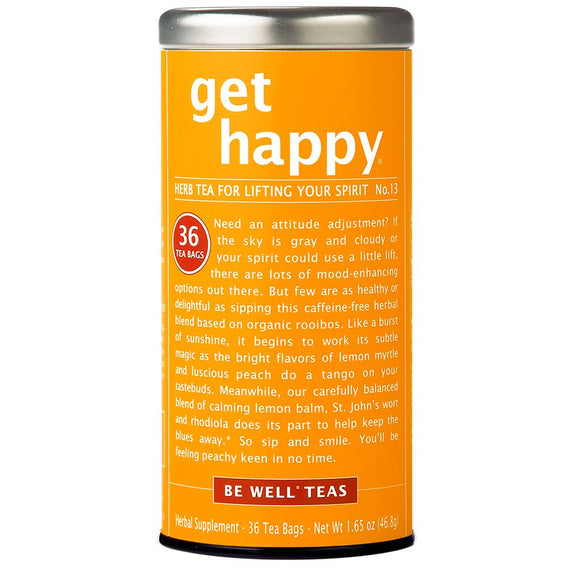 Get Happy #13 For Lifting Your Spirit Tea Bags
Herb Tea for Lifting Your Spirits - Need an attitude adjustment? If the sky is gray and cloudy or your spirit could use a little lift, there are lots of mood-enhancing options out there. But few are as healthy or delightful as sipping this caffeine-free herbal brew based on organic rooibos.

Like a burst of sunshine, it begins to work its subtle magic as the bright flavors of lemon myrtle and luscious peach do a tango on your taste buds.

Meanwhile, our carefully balanced blend of calming lemon balm, St. John's wort and rhodiola does its part to help keep the blues away*. So sip and smile. You'll be feeling peachy keen in no time.

Ingredients:
Organic Rooibos (leaf), Lemon Balm (leaf), Lemon Myrtle (Bachousia citriodora) (Leaf), St. John's Wort (aerial parts), Rhodiola (root) Extract. Other Ingredients: Natural Peach Flavor