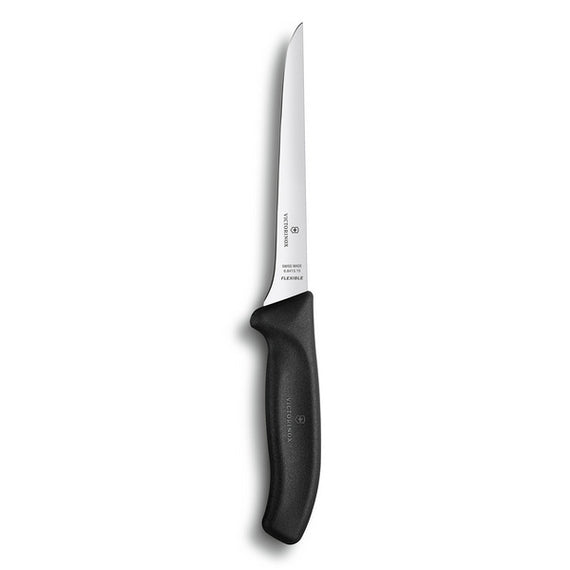 Swiss Classic 6" Boning Knife
VERSATILE DE-BONING TOOL. Trim or remove meat from the bone with ease. This knife's pointed tip easily pierces meat while the curved-edge allows for smooth, clean cuts close to and around the bone.

IDEAL FOR DELICATE CUTS. Delicate poultry and fish can be difficult to debone with accuracy. The curved yet flexible blade allows for a better working angle when cutting fish or thin cuts of meat that are more intricate to bone and easily pierced.

EASY HANDLING. This knife features an ergonomic Fibrox Pro handle for a non-slip grip -- even when wet. This exceptional knife is weighted and balanced for easy handling and comfort.

KNIFE DIMENSIONS. Stainless steel blade -- 6" in length. Meets the strict National Sanitation Foundation (NSF) standards for public health protection.

TRUSTED SWISS QUALITY. Expertly crafted in Switzerland in 1884, Victorinox provides a lifetime guarantee against defects in material and workmanship. Making a lifetime commitment has never been so easy.