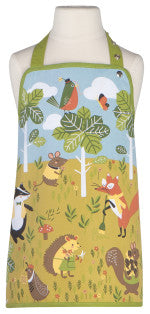 Critter Capers Kid's Apron
Childrens Apron: Designed to fit kids from 2-7 years old, this lightweight, functional apron excites kids and encourages participation in meal prep while protecting clothing from spills and splatters. Measures 18'' W x 18'' L
Clean And Covered: From an art smock during chaotic creative activies to a dirt-guarding, gardening apron in the yard, our machine-washable fabrics are family-ready and handy for all varieties of indoor and outdoor messes. Machine Wash
Mini chefs will look the part with an apron that fits just right, thanks to wide, easily adjustable straps.

100% cotton
W18 x L18 inch
Made in China