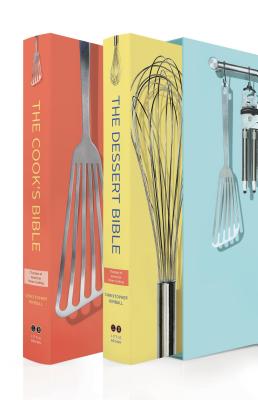 Cook's Bible And The Dessert Bible Box Set ~The Best of American Home Cooking
A two-volume master class in home cooking from the host of

 

America's Test Kitchen-with surefire recipes for America's best-loved dishes and desserts, from fluffy biscuits and tangy barbecue to chocolate chip cookies and the perfect apple pie.Cook's Illustrated

 founder and editor Christopher Kimball has spent years testing recipes to make them foolproof and as delicious as possible. Here, he takes the mystery out of cooking with more than 700 essential recipes you can trust.

What's the ideal ratio of oil to vinegar in vinaigrette? Ever wonder why cakes sometimes sink in the middle or why pie dough falls apart when rolled? What are the risks of using an 8-inch cake pan when a recipe calls for a 9-inch pan? Kimball has the answers, and he pairs his tried-and-true advice with hundreds of step-by-step illustrations.

This box set delivers the best and easiest ways to master every meal of the day. 

The Cook's Bible

 

features all-time favorite preparations for soups, salads, vegetables, meat, fish, pizza, and pasta; 

The Dessert Bible

 

shows you how to make tempting cakes, pies, cookies, ice cream, and more.

This beautiful compendium is a cooking school in book form for beginners and experienced cooks alike.