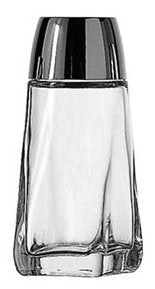 Continental Salt and Pepper Shaker
As an essential aspect of most sit-down restaurants, this Anchor Hocking 80570 Continental 2 oz. square base salt and pepper shaker offers both convenience and elegance to your table setting. The shaker's classic square base and stainless steel lid adds a modern feel to your tabletop presentation. Its classic form and attractive presence make it perfect for use in your restaurant, diner, or pizzeria.
This shaker can be filled with a variety of spices including salt, pepper, garlic powder, or your own house blend. Its easy-to-clean, glass construction allows your staff to see when seasoning levels are getting low and in need of refills, increasing efficiency and customer satisfaction. Its twist-off metal lid creates a tight seal and allows condiment refills to be a quick and easy process in your busy establishment. This 2 oz. shaker is just the right size for small tables, booths, and countertops.