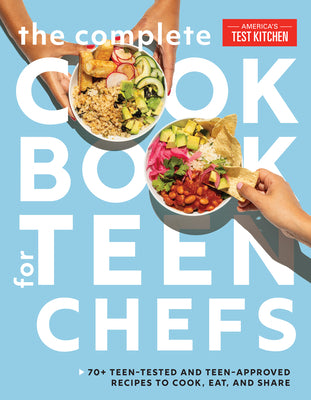 Complete Cookbook For Teen Chefs
For the first time ever, America's Test Kitchen Kids is bringing their rigorous testing, kitchen knowhow, and hands-on learning to teenagers in the kitchen. Fiercely independent and searching for culinary adventure, teen chefs are ready for exciting, global recipes made to share with friends and family—with the support of fundamental kitchen techniques and approachable instruction. Set for release on March 1, 2022, The Complete Cookbook for Teen Chefs offers just that, filled with over 70 recipes that have been tested and approved by thousands of teens from across the country.

Whether a teen is looking to make Tik Tok-worthy sticky buns or a simple egg and cheese breakfast sandwiches before school, The Complete Cookbook for Teenage Chefs has something for everyone. With recipes ranging from Biang Biang Mian (Hand-Pulled Noodles) to Steak Tacos with Charred Corn Salsa, Arepas to Congee, French Fries and Cheeseburger Sliders to Apple-Cider Donuts, this book features helpful sidebars to ensure that teens can learn more about why a recipe works, and how to take their recipes to the next level.