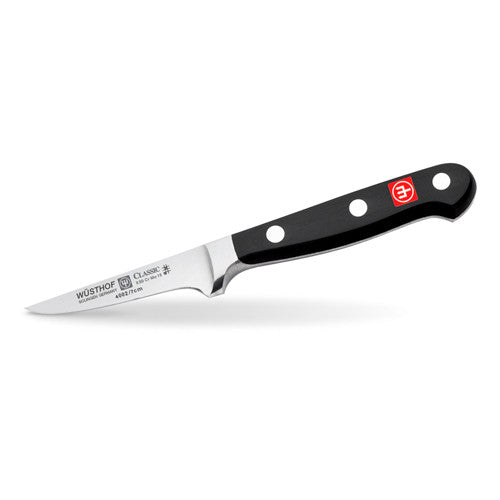 "WÜSTHOF'S best-selling collection for generations, CLASSIC full-tang knives are precision-forged from a single piece of an exclusive high-carbon stainless steel. CLASSIC knives feature a new handle design made of a highly durable synthetic material – Polyoxymethylene (POM) – which has a tighter molecular structure to resist fading and discoloration.
The CLASSIC 2 3/4" Trimming Knife is designed for smaller jobs. The narrow curved blade enables the knife to move cleanly along the bones for clean cuts and is ideal for trimming fat from chicken.

Product Highlights:
Precision-forged from a single blank of high carbon stainless steel
Full tang that is triple riveted to the handle for precise control
Precision Edge Technology (PEtec) yields a blade that is 20% sharper with twice the edge retention.
Tempered to 58⁰ Rockwell
Comfortable and highly-durable polyoxymethylene (POM) handle with a traditional look and feel, stickered with our red Trident logo
Full bolster and finger guard"