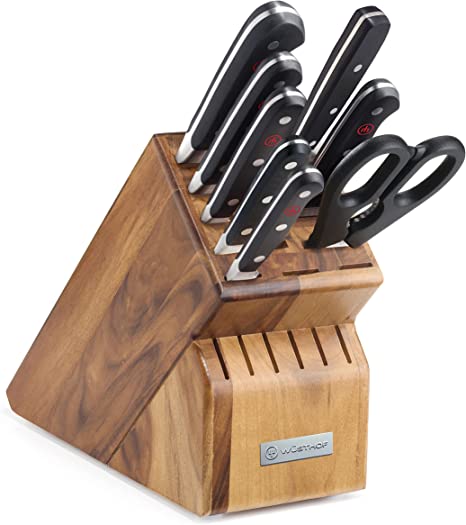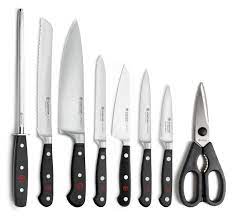 Wusthof Classic 9 Piece Block Set
WÜSTHOF'S best-selling collection for generations, CLASSIC full-tang knives are precision-forged from a single piece of an exclusive high-carbon stainless steel. CLASSIC knives feature a new handle design made of a highly durable synthetic material – Polyoxymethylene (POM) – which has a tighter molecular structure to resist fading and discoloration. WÜSTHOF Classic offers the cutlery benchmark for tasks big and small. The traditional triple riveted design has been a favorite for generations. With perfect balance, this fully-forged line performs with precision and ease. 
The Classic 9-Piece Set includes:
Classic 3 ½" Paring Knife

Classic 

4 ½" Utility Knife

Classic 

4 ½" Asian Utility Knife

Classic 

5" Serrated Utility Knife

Classic 

8" Chef's Knife

Classic 

8" Bread Knife
9" Triple Rivet Honing Steel
Come-Apart Kitchen Shears
17-Slot Acacia Knife Block
Knife block dimensions: 10.5" L x 4.5" W x 8.5" H
Please note, due to the nature of the wood, the color and grain pattern of each knife block may vary.