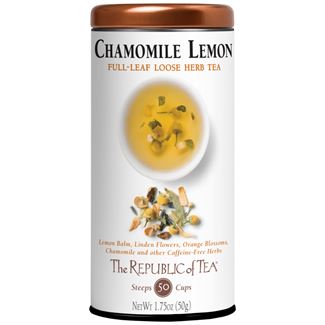 Chamomile Lemon Loose Leaf Tea
Chamomile is blended with Lemon balm, linden flowers, orange blossoms, lavender flower, skullcap, passion flower, lemon juice and valerian root to produce a fragrant & soothing cup. These potent botanicals surrender a sweet & tranquil tea - delighting palate, mind & body.
Use 1 teaspoon of Chamomile Lemon Herbal Full-Leaf tea per 6 ounces of water. Steep for 5-7 minutes. For iced tea, double the amount of tea and pour over ice.
Gluten Free, Sugar Free, Carb Free
Ingredients:
Lemon balm, linden flowers, orange blossoms, chamomile, skullcap, passion flowers, valerian root, lavender flowers and lemon juice