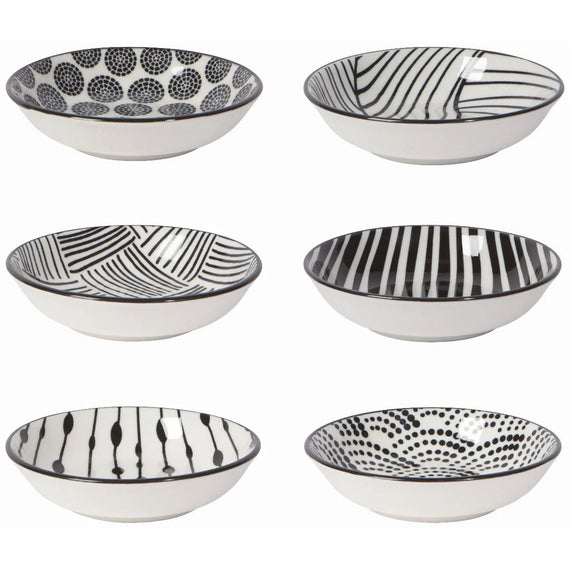 Keep all ingredients close at hand like professional chefs with these pinch bowls. Add a pinch of this and dash of that- spices, nuts and herbs are close by to spice up your dishes while cooking.
Lively hand-stamped and stencilled patterns adorn the pieces in this collection, making them a delight for the eye from any perspective.
Hypnotize your guests with the timeless designs on this 6-piece Bits and Dots Black Pinch Bowl set by Now Designs. Geometric and nature-inspired patterns in classic black and white provide beautifully detailed accents on your table or kitchen island.
Multiuse small bowls are perfect for prepping and sorting ingredients when cooking or for serving sauces, dips and condiments
Black and white pinch bowls in a variety of hand-rendered patterns offer understated elegance to kitchens and make a unique, thoughtful gift – set of 6
Lightweight porcelain construction lends durability to these color-coordinated bowls
Microwave and dishwasher safe, making food prep and cleanup easier
Now Designs is a collection of kitchen and dining essentials designed to celebrate and support the joy of living well. Reimagined classics and an abundance of colors and tones to appeal to every taste.