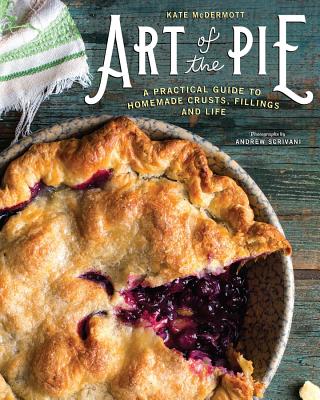 Art Of The Pie~ A Practical Guide to Homemade Crusts, Fillings, and Life
The pie-making classic named one of 2016's best cookbooks by NPR, Oprah.com, USA Today, Bon Appétit, Cosmopolitan and more.
"A new baking bible." —Wall Street Journal

"If there's such a thing as a pie guru, it's Kate McDermott." —Sunset Magazine
Pie making should be simple and fun. Kate McDermott, who learned to make pie from her Iowa grandmother, has taught the time-honored craft of pie-making to thousands of people. In Art of the Pie she shares her secrets to great crusts (including gluten-free options) with instructions for making, rolling, and baking them, as well as detailed descriptions for ingredients, methods, and tricks for making fillings. Organized by type of fruit, style of pie, and sweet versus savory, recipes range from apple to banana rum caramel coconut, raspberry rhubarb to chicken potpie. Along with luscious photography, McDermott makes it very easy to become an accomplished pie maker. This is the only PIE cookbook you need.