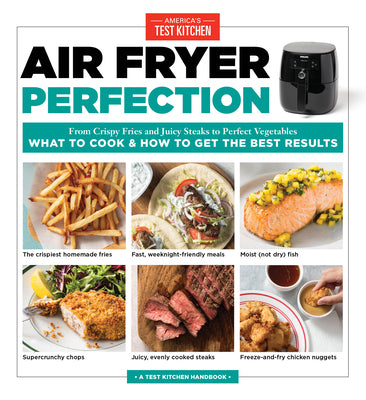 Air Fryer Perfection: From Crispy Fries and Juicy Steaks to Perfect Vegetables, What to Cook & How to Get the Best Results
Get the best possible results from your air fryer and discover the best ways to use it (not just frying!) with 75 fast, convenient, great-tasting recipes.

Air fryers promise crisp fried food without actual deep frying. Was it too good to be believed? And what can you cook in them besides French fries? In truth, air fryers cook food by blasting it with circulated hot air. The method is fast, convenient, and can be surprisingly good--if you have the right recipe. 

In addition to crispy fried chicken and fries, you'll turn out evenly cooked steaks, such as Spice-Rubbed Steak with Snap Pea and Cucumber Salad (the spice rub gives them a bold crust), Sweet and Smoky Pork Tenderloin with Roasted Butternut Squash (the pork cooks directly on top of the squash to save time), and Tandoori Chicken Thighs. Many of the recipes yield both a main and a side for a complete meal. Most recipes take only 45 minutes or even less time, and all come with complete nutrition information.

Frozen foods cook up crisp in the air fryer, but the results are so much better when you start with homemade. So we offer freeze-it-yourself Chicken Nuggets, Southwestern Beef Hand Pies, and more that go straight from freezer to air fryer and cook to perfection. And we share plenty of kid-friendly meals and snacks, from Better-Than-Boxed Fish Sticks to Zucchini Fries.
From America's Test Kitchen.