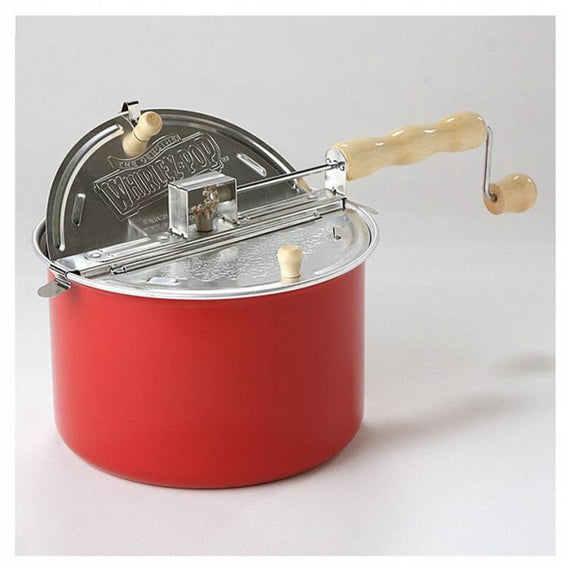 Each popper is hand assembled and checked for quality. We take pride in every popper made and we stand behind our poppers with a 25 year warranty on the mechanical/moving parts. Our top-notch customer service team is ready to help your customer should they ever have an issue!
Premium Materials: Pan and lid are made out of high-quality aluminum with nylon gears and hardwood handle and knobs. Due to aluminum construction, this version is not induction compatible. Consult the stove top's manual for guidance on use of lightweight aluminum cookware on glass top stoves.
Plenty of Popcorn: 6-quart capacity makes about 24 cups of popped popcorn. Partial batch instructions also included.
Pops Quickly: Makes twice as much as a standard bag of microwave popcorn, in the same amount of time (3 minutes or less). Aluminum is an excellent heat conductor, allowing for a quick cook time.
Melt-In-Your-Mouth Flavor: Features 4 strategically placed steam vents that allow steam to escape while popping. This ensures popcorn is always tender and crisp.
Every Kernel Pops:Patented stirring mechanism is designed like a commercial popper, preventing sticking and burning by moving every kernel until it pops - up to 42 times its original size!
Safe to Use: Wooden handle and crank stay cool to keep hands away from heat and steam.
Easy Clean Up: Lid features quick-release clips for easy removal. Simply wipe parts down with paper towel and store for next use. If necessary, hand-wash with warm, soapy water using a grease-cutting liquid dish soap. Popper is not dishwasher safe.
The Perfect Snack: With countless options, it's easy to customize your popcorn snack! Makes as much (or as little) popcorn was you want, it's up to your customer.