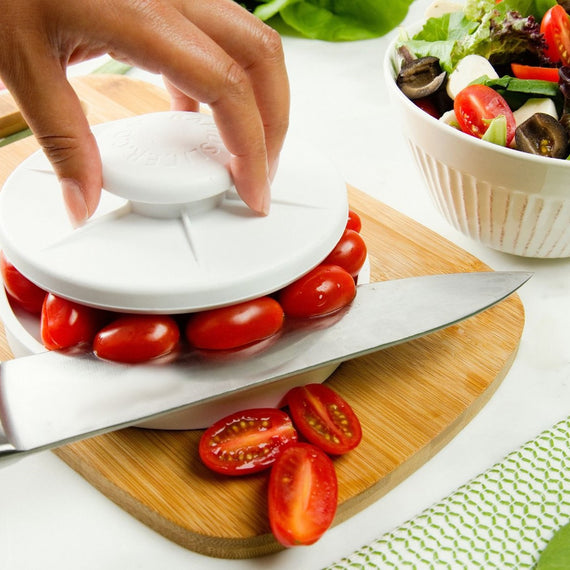 QUICKLY and SAFELY slice foods in half, while the Rapid Slicer® holds them in place.
Banish a dull kitchen task by halving a batch of cherry tomatoes, grapes, or olives - or anything small and round - in one go with the Rapid Slicer®.
If slicing meats like slippery chicken breasts into cutlets is not your favorite task, the Rapid Slicer® provides the perfect barrier between your hand and the meat.
Use it to halve bagels or English muffins, too!
Fill the base with your desired food item.
Place the lid on top.
Run your knife between the lid and base to slice your food items in half!
Easy as that!
Patented design has non-slip feet that keep it stationary.
Lid protects your hand from the knife blade.
Holds 1½ - 2 cups of fruits or vegetables at once.
Lid locks onto the base for convenient storage.
Dishwasher safe and BPA free material resists cutting or scratching.
Made in the USA!
Ergonomic design helps those with poor hand strength.