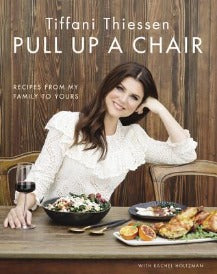 Recipes from My Family to Yours. Tiffani Thiessen is beloved for her roles in Saved by the Bell and Beverly Hills 90210, but for the past few years she's been known as the host of the Cooking Channel series Dinner at Tiffani's.

Each episode showcased her classic-with-a-twist recipes and knack for hosting a good time.

For three seasons, Tiffani's fans were able to fall in love with her all over again.

Now, in Pull Up a Chair, readers can bring home Tiffani's delicious food and warm hospitality.

The 125 recipes in this debut cookbook are the kind that bring people together.

Whether it's Stuffed French Toast or her husband, Brady's Favorite Short Rib Enchiladas for family-friendly meals, Curried Deviled Eggs or Boozy Date Milkshakes for special-occasion treats, or Mom's Cream Cheese Pie—because you can't forget dessert!

With recipes and tips for pleasing the pickiest of eaters, feeding a crowd or pulling off a party in your PJs, plus gorgeous photography, Pull Up a Chair will be the book that fans and avid home cooks alike will want to include in their collection.