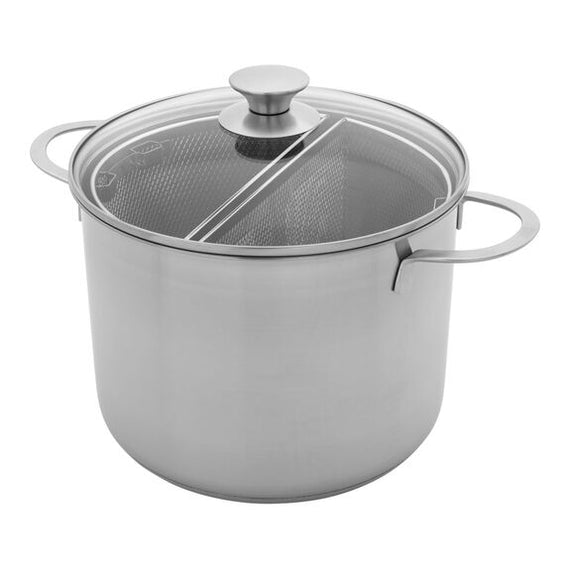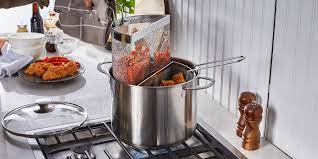 Demeyere Resto 7-in-1 Multi-Pot
Steam, simmer, blanch, boil, deep-fry, braise, brown, stew, and strain all with one pot. This 8.5-quart pot is designed for uncomplicated cooking. You can cook an entire one-pot meal using the two included colanders. Boil pasta with one colander and blanch veggies with the other, all in the same pot of water. The colander inserts let you skip the need for an additional strainer and their removable handles help save on storage space.
Easily remove the built-in strainers to simmer soups and braise short ribs for a crowd, using the tempered glass lid to lock in moisture. Handy for deep frying and versatile big-batch cooking, the Multi-Pot is ideal for family mealtime as well as entertaining.
DEMEYERE cookware is revered across the globe by discerning chefs. Known as the experts in stainless-steel cookware, DEMEYERE brings professional-level kitchen tools to the home cook. Crafted from high-quality 18/10 stainless steel, the Multi-Pot's aluminum core sandwich base offers excellent heat retention and distribution and is suitable for all stovetops, including induction. Cook with precision with the clearly marked capacity filling scale on the pot interior that lets you fill your pot with accuracy. Thanks to the easy-care satin finish, the pot is conveniently dishwasher safe.
Includes: 8.5-quart stainless-steel pot, glass lid, 2 extra-deep lift-out colanders with space-saving, removable handles
Quick-heating cookware made of 18/10 stainless steel
Clearly marked capacity filling scale on pot interior
Tight-fitting tempered glass lid for easy food monitoring
Sandwich base with aluminum core, distributes heat quickly and efficiently
Suitable for all stovetops, including induction
Dishwasher safe
Lifetime warranty